Brickies trestles (also known as acrow trestles) are not the easiest to handle. All sizes have a number of potential pinch pints, but with a little knowledge and a lot of care, they can be loaded, carried and unloaded safely and efficiently.
Before picking up any size brickies trestle, ensure you do a visual inspection and check for damage such as cracked welds, bent legs and/or pin retainers and missing pins (as per photos above).
Where possible, get the assistance of another competent person and work together.
When carrying, loading or unloading these types of trestles it is best to wear leather gloves. These trestles usually have mortar residue on them and may also have burrs on the metal which can cause injury.
Ensure correct manual handling techniques are followed such as: do not carry anything that you are not safely capable of, keep the load close to your body, bend your knees, lift with your legs and keep a straight back.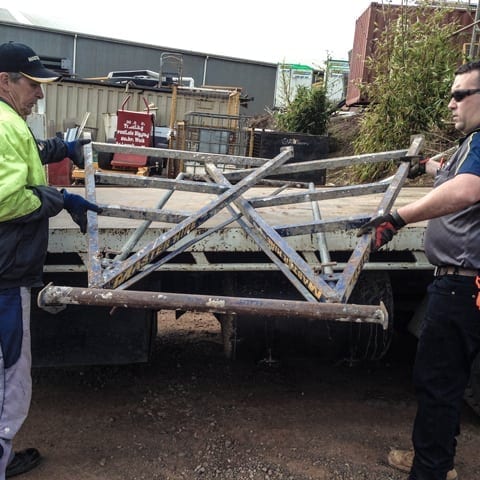 How to safely lift a brickies trestle with one person only
Plan your route – ensure the path you are taking is clear of any obstructions.
Try not to carry the trestles further than you need i.e. park your vehicle as close and safely as possible.
Have the trestle inverted (as per photo below) and with one hand, hold the area used for the planks and with the other hand, hold the legs together and keep the trestle balanced and steady.
Use the weight of the trestle when putting on or taking it off the vehicle and slide it to the ground.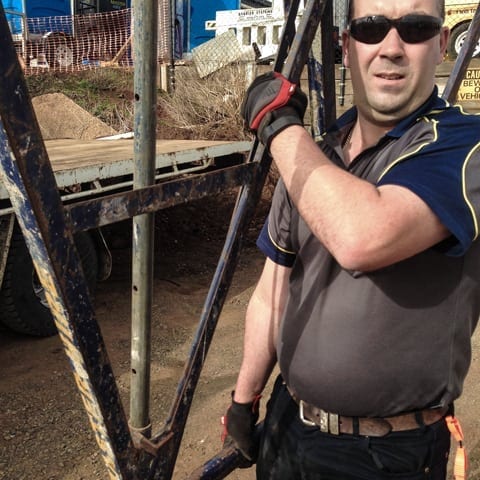 How to store brickies trestles
Where there is no racking available, trestles can be easily stored by correctly setting up one trestle of the same size and leaning the other trestles onto either side of it in a balanced manner i.e. of similar quantities on both sides. By storing the trestles upside down, they are ready to be loaded directly onto a vehicle. If in doubt, ask for assistance and remember not to attempt anything that is not safe or you are not comfortable doing.