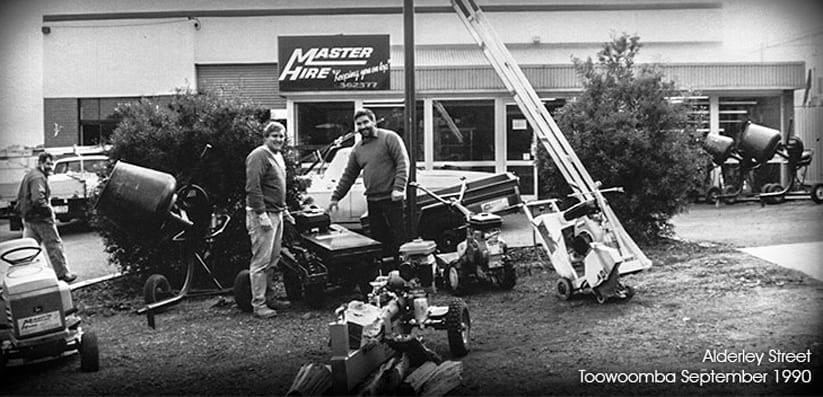 The Master Hire Story
Master Hire started on the 1st September 1990 in Toowoomba and still remains a family-owned and operated company. Since then, Master Hire has expanded throughout Queensland and New South Wales with a branch network servicing Central & Western Queensland, the Darling Downs, South East Queensland and the Mid North Coast of New South Wales. A full list of all our store locations can be found on our contact us page.
Master Hire's success has been founded on a passion for providing exceptional customer service, from the first day we were established in September 1990. Our original tagline was "Keeping you on top" and this philosophy has been carried through the company for over 20 years. In May 2013  Master Hire re-branded and updated the logo and the tagline to "Built on Service". We believe excellence in service is no accident! It is the result of focused hard work and diligence. At Master Hire we believe our team members are the most important assets we have. Everyone within Master Hire recognises and fulfills their responsibility to enhance our service and reputation, which are synonymous with customer satisfaction. If you would like to join our team and contribute to our future success, visit our Careers page.
Our Values
Master Hire continues to uphold the governing values it recognised as important at its formation in 1990. These values are shared by all team members, who have a clear aim to make things happen safely, being responsible for the company's economic success. Their honest and enthusiastic example, which instils confidence, is always displayed in respect for others.
What can we do for you?
Awarded 2019 Australian Rental Company of the Year, we listen and respond to your needs, no matter the size, and are constantly striving to be the industry leader. Our company provides hire solutions for the construction, industrial, mining, trades and DIY markets. Our aim is to be the number one service provider of hire products in our chosen markets. For us, being 'number one' is not about price, it is not about volume, but rather being a supplier of choice. We strive to be your hire company of choice. Partnering with Master Hire means your safety, your deadlines, your budget and your satisfaction are all the focus of our friendly and reliable team. With over 30 years experience, Master Hire aims to provide you with affordable and effective solutions for your equipment hire needs.
What Our Customers Say About Master Hire
Proud Members of…