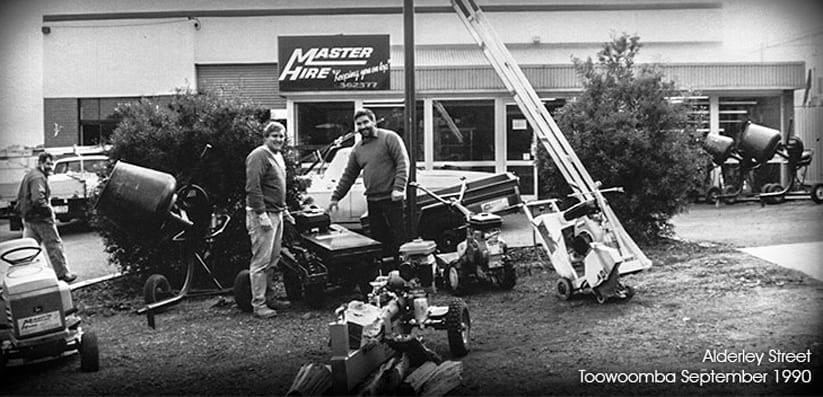 The Master Hire Story
Master Hire started on the 1st September 1990 in Toowoomba and still remains a family-owned and operated company. Since then, Master Hire has expanded throughout Queensland and New South Wales with a branch network servicing Central & Western Queensland, the Darling Downs, South East Queensland and the Mid North Coast of New South Wales. A full list of all our store locations can be found on our contact us page.
Master Hire's success has been founded on a passion for providing exceptional customer service, from the first day we were established in September 1990. Our original tagline was "Keeping you on top" and this philosophy has been carried through the company for over 20 years. In May 2013  Master Hire re-branded and updated the logo and the tagline to "Built on Service". We believe excellence in service is no accident! It is the result of focused hard work and diligence. At Master Hire we believe our team members are the most important assets we have. Everyone within Master Hire recognises and fulfills their responsibility to enhance our service and reputation, which are synonymous with customer satisfaction. If you would like to join our team and contribute to our future success, visit our Careers page.
Our Values
Master Hire continues to uphold the governing values it recognised as important at its formation in 1990. These values are shared by all team members, who have a clear aim to make things happen safely, being responsible for the company's economic success. Their honest and enthusiastic example, which instils confidence, is always displayed in respect for others.
What can we do for you?
Awarded 2019 Australian Rental Company of the Year, we listen and respond to your needs, no matter the size, and are constantly striving to be the industry leader. Our company provides hire solutions for the construction, industrial, mining, trades and DIY markets. Our aim is to be the number one service provider of hire products in our chosen markets. For us, being 'number one' is not about price, it is not about volume, but rather being a supplier of choice. We strive to be your hire company of choice. Partnering with Master Hire means your safety, your deadlines, your budget and your satisfaction are all the focus of our friendly and reliable team. With over 30 years experience, Master Hire aims to provide you with affordable and effective solutions for your equipment hire needs.
What Our Customers Say About Master Hire
"Master Hire have a motto of "Built on Service" and in my experience living up to a motto can be extremely difficult, and most likely unattainable, but Master Hire are true to their word and provide exceptional service every time.  The service motto is instilled in all Master Hire staff, from the service technicians on the ground through to senior management. Their commitment to making each customer feel valuable comes through professional and reliable customer service, understanding their customer's needs, knowledge of their own products and ultimately delivering on their promises.  I would not hesitate to recommend the services of Master Hire to anyone and I look forward to working with the Master Hire team on the next project."Scott Dickson - Acciona Australia
"Master Hire has proven themselves to go above and beyond in order to ensure that our company's needs are met, and expectations exceeded. Being in the civil construction industry with multiple job sites working simultaneously means that requirements can sometimes change at the drop of a hat. Master Hire has always provided us with excellent service and has been able to turn around short notice and difficult requests quickly, leaving us with minimal downtime on any of our jobs. The staff at Master Hire are happy to work with us and do the hard yards to source whatever we need, whenever we need it, and for a reasonable rate. They've also been very understanding in the situations where we've hired equipment, or asked them to source equipment, and then had to cancel for whatever reason. In short, I wouldn't hesitate to recommend Master Hire to anyone looking to source equipment whether it be for around the house, on a building site or a construction site. A pleasure to deal with."
Kelsey Bell - FB Contracting
"We have been using Master Hire for the past 4 years. On our initial meeting, I was very impressed with their confidence in their equipment and how they honestly answered our questions and concerns about the service that we would require. From the start we have had nothing short of excellent customer service, combine that with equipment that is fit for task, sensibly priced and the option of having the equipment delivered if you are time pushed, it is a service that is hard to beat. The continued reliability of Master Hire has meant that we have always approached all our projects with the confidence that we have Master Hire supporting us. I am very happy in recommending Master Hire for your equipment needs."
Craig Wann - Acorn Roads
"I have worked with the team at Master Hire for 5 years and in that time they have grown into one, if not the best hire company in South East Qld. Their moral take on the construction industry is a credit to how they do business. Where others are doing everything they can to get a sale no matter what, Master Hire will advise on stock availability, delivery times and costs up front with minimum impact on our project costs and program. The staff are friendly, knowledgeable and experienced in their field. I get regular phone calls to ensure that the hired equipment is not being kept on site not being used again assisting FDC with cost control. If you are looking for a one stop, no nonsense Hire company, then look no further as Master Hire has it all."
Gary Liscoe - FDC Construction & Fitout
"CPB would like to thank Master Hire again for another successful project completed. Master Hire has supplied and maintained hire equipment on several projects for me now, often going out of their way to look after us wherever required."
Michael Small - CPB Contractors
"Get Directed Traffic Control has been dealing with Master Hire for the past 3 years, in this time we have found the whole Master Hire team to be professional, friendly, courteous and to provide fantastic service. Nothing is ever an issue. We can call with an issue and Master Hire are very prompt to action, whether is it to sort pricing or get a piece of hire equipment out. Master Hire have a great range of products that we need to hire regularly and even if it is not a product line they carry, they source it and provide a quote.
As a company, we highly recommend the team at Master Hire. Great service and professionalism with a smile."Jackie Fraser - Get Directed Traffic Control
Proud Members of…