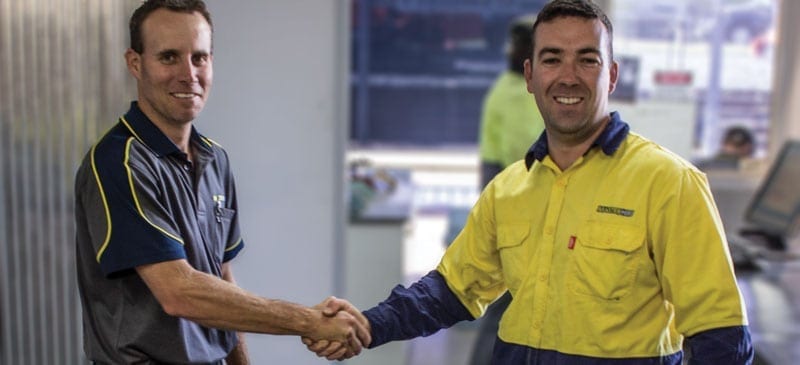 Are you looking to join a successful team and enhance your career? Master Hire continues to be a successful hire business since we opened our doors in September 1990. This success is due to the genuine service and care our people provide to our customers and the community. Having team members who embrace our company values of honesty, respect, team work and commitment to providing exceptional customer service through hiring quality products, is our point of difference within the equipment hire industry.
At Master Hire, we offer careers in operations, sales, mechanical services, management and administration. Each area is an integral link to providing our exceptional customer service. Every team member is inducted and provided with ongoing career development such as on the job training, nationally recognised courses, apprenticeships and other life skills.
Our people are the key to providing this service and as we grow, we want to attract people who share these values. If you would like to join our successful team and contribute to our future, submit your interest by emailing careers@masterhire.com.au and one of our team will contact you to discuss any opportunities.
---
Assistant Branch Manager - Morayfield, QLD
Position Available
Due to promotion, Master Hire Morayfield is currently employing for an Assistant Branch Manager in a busy market.
Your role is to assist the Branch Manager in developing and mentoring a team that will ensure customer and organisational needs are met in an efficient and productive manner and performing the duties and responsibilities of a Branch Manager when placed in charge.
Some of the personal attributes you will need to have include:
Must demonstrate ability to develop exceptional customer relationships
Communicate clearly
Being familiar with motorised and electrical equipment
Use information technology
Ability to multi-task
Previous hire experience not essential
Desire to progress into management
This is a full-time position with a salary package, incentives and other benefits.
If you possess high business and personal ethics and want to be appreciated, rewarded then apply now.
Experienced Mechanic - Rocklea, QLD
Position Available
Currently seeking a highly motivated mechanic with proven ability to maintain and service a large variety of equipment from outdoor power through to a medium sized range of earthmoving equipment like rollers, excavators & track loaders and other products.
The successful applicant must have:
At least five years experience as a small engine and/or diesel fitter
Proven ability with low voltage (24/12v) electrical systems & fault diagnostics
Proven ability with pneumatic and hydraulic systems
Excellent standard of quality control
Proven ability in field service work
Be adept with electronic devices
Proven ability to work in a team environment
Written and verbal communication skills
Current driver & forklift licenses
Construction White Card
If you are looking for a rewarding career with a great family owned company and have what is needed email your resume now to careers@masterhire.com.au  Applications will be received until close of business 28/09/18.