T Nailing Guns
Master Hire's range of pneumatic nail guns are used to drive nails into timber fences and floor boards. These nail guns, often called a T Nailer, are driven by compressed air so you will need to have an air compressor with more than 11cfm capacity to run this unit. A range of suitable T nails are able to be purchased from any Master Hire store.
Specifications:
120 nail capacity
70-120 psi pressure range
Bump fire trigger for fast operation
Minimal recoil ensures operator safety & comfort
Top load magazine for easy reloading
Robust design for both residential and trade applications
Unit weighs only 3.0kg
See also: Gas Nail Guns
Product training and guidance
Our air powered T-nailing guns are easy to use and do not require a license to operate. Master Hire's free customer hand over includes training to ensure you can operate the machine confidently and safely at all times.
Delivery and Pick Up
Master Hire offers convenient delivery and pick up options. Speak to our team for delivery rates which may vary depending on location. For more information, or to enquire about our hire rates, contact Master Hire 1300 107 107.
For your safety, convenience and WHS obligations, user manuals and hazard assessments are available for a range of equipment.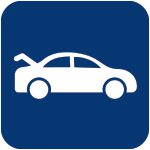 This item can be transported in the boot of a car.
Product Documents
Operator's Manuals
Hazard Assessment