Electric Cut-N-Break Concrete Saws – 9″
Master Hire's cut-n-break concrete saws are the perfect for cutting into walls, floors or concrete structures. This powerful electric unit is fitted with a tough 230mm diamond blade but its design allows you to plunge cut up to 400 mm deep. In addition, the adjustable blade guard allows close cutting to walls and floors. This 240V Husqvarna K4000 cut-n-break demolition saw is perfect for indoor or outdoor use. The unit weighs only 8.4kg and has a blade thickness of 2.5mm. For hassle free operation, the power cord inlet is located underneath the handle to ensure ease of use with the machine. To assist in cleaning up the concrete dust Master Hire has suitable M-class dust extraction units available on request.
Product training and guidance
Our cut-n-break concrete saws are easy to use and Master Hire's free customer hand over includes basic training to ensure you can operate the equipment confidently and safely at all times.
Delivery and Pick Up
Master Hire offers convenient delivery and pick up options. Speak to our team for delivery rates which may vary depending on location. For more information, or to enquire about our hire rates, contact Master Hire 1300 107 107.
For your safety, convenience and WHS obligations, user manuals and hazard assessments are available for a range of equipment.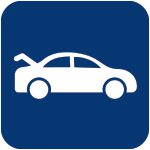 This item can be transported in the boot of a car.
Product Documents
Operator's Manuals