Electric Concrete Saws
Master Hire's electric concrete saws, also known as an electric demolition saw or demo saw, are ideal for wet or dry cutting concrete slabs or walls. We have a wide range of equipment designed for cutting all types of concrete. This particular unit is designed for indoor use or where engine fumes are an issue. Equipped with a 14in blade it has a maximum cutting depth of up to 5in (125mm). Its ideal for cutting almost all concrete slabs, brick and besser blocks walls. Unlike other electric cutters, the blade rotates forward, cutting into the concrete or brickwork efficiently with minimum effort for the operator. These diamond cutting saws are run by a powerful 240V, 10amp electric motor, making it lightweight and easy to handle.  This electric all-round wet cutter minimises the amount of water and slurry. You can also hire our optional M-Class vacuum units to transform it into a dry cutter that generates minimal dust.
For more precise depth adjustment and straighter cuts when cutting concrete slabs, we recommend our walk behind floor saw.
See also: Floor saw
Product Training and Guidance
Our concrete saws are easy to use and Master Hire's free customer hand over includes basic training to ensure you can operate the machine confidently and safely at all times.
Delivery and Pick Up
Master Hire offers convenient delivery and pick up options. Speak to our team for delivery rates which may vary depending on location. For more information, or to enquire about our hire rates, contact Master Hire 1300 107 107.
For your safety, convenience and WHS obligations, user manuals and hazard assessments are available for a range of equipment.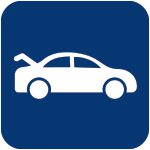 This item can be transported in the boot of a car.
Product Documents
Operator's Manual
Hazard Assessment