1.6t Roller Trailers
Master Hire's 1.6t roller trailers are built to suit our range of 1.6t tandem drum rollers. These heavy duty trailers have rubber matting fitted to reduce slipping when loading and unloading the roller. All Master Hire dual axle roller trailers are fitted with a standard 50mm quick release ball coupling with override brake and 7-pin flat adapter. These trailers can be towed behind any vehicle with a towing capacity of 2250kg or greater.
Product Training and Guidance
Master Hire offers a free customer hand over which includes a thorough walkthrough and training to ensure you can load and unload the machine confidently and safely at all times.
Delivery and Pick Up
Master Hire offers convenient delivery and pick up options. Speak to our team for delivery rates which may vary depending on location. For more information, or to enquire about our hire rates, contact Master Hire 1300 107 107.
For your safety, convenience and WHS obligations, user manuals and hazard assessments are available for a range of equipment.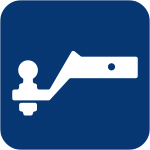 These machines can be towed behind any vehicle with a towing capacity greater than 2250kg.