Diaphragm Pumps – 2″
Master Hire's 2″ (50mm) petrol powered diaphragm pumps are designed to move high volumes of water. These pumps allow the passage of solids up to 20mm in diameter to flow through the pump and hoses without clogging making them ideal for applications such as dams, piggeries, mining, de-watering, building sites. They are capable of pumping up to 125L per minute and are available with suction and layflat hoses. Easy to start, these low maintenance pumps are requires no water for subsequent pumping operation (if fitted with a foot valve) once initial pump is primed.
Product training and guidance
Our diaphragm pumps are easy to use and Master Hire's free customer hand over includes basic training to ensure you can operate the machine confidently and safely at all times.
Delivery and Pick Up
Master Hire offers convenient delivery and pick up options. Speak to our team for delivery rates which may vary depending on location. For more information, or to enquire about our hire rates, contact Master Hire 1300 107 107.
For your safety, convenience and WHS obligations, user manuals and hazard assessments are available for a range of equipment.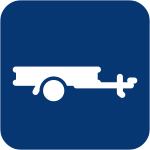 This item can be transported in a trailer or on the back of a ute.
Product Documents
Operator's Manual