19ft Scissor Lift Trailers
Master Hire's 19ft scissor lift trailers can also transport our 15ft scissor lifts. These units come with down points, heavy duty chains, ratchets and fold down ramps. This trailer is specifically designed to transport our small electric scissor lifts, making it perfect for needing to move equipment between sites. All Master Hire trailers are fitted with a standard 50mm quick release ball coupling with override brake.
Product training and guidance
Our scissor lift trailers are easy to use and Master Hire's free customer hand over includes basic training to ensure you can operate the item confidently and safely at all times.
Delivery and Pick Up
Master Hire offers convenient delivery and pick up options. Speak to our team for delivery rates which may vary depending on location. For more information, or to enquire about our hire rates, contact Master Hire 1300 107 107.
For your safety, convenience and WHS obligations, user manuals and hazard assessments are available for a range of equipment.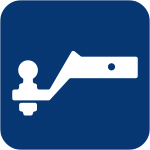 This item can be transported by a vehicle with a towing capacity of 2250kg of greater.
Product Documents
Hazard Assessment