Electric Rebar Benders
Master Hire's electric rebar bender and straightener is used for bending and straightening up to 32mm rebar with up to 620N/mm2 strength. Weighing only 28kg, this unit can bend up to 90 degrees and straighten bent rebar from 140 degrees back to straight in under 12 seconds. Supplied in a storage box, this electric rebar bender is suitable for a range of commercial and industrial applications. Dimensions of the unit are 686mm (L), 264mm (W) and 217mm (H).
Product training and guidance
Our electric rebar benders are easy to use and Master Hire's free customer hand over includes training to ensure you can operate the machine confidently and safely at all times.
Delivery and Pick Up
Master Hire offers convenient delivery and pick up options. Speak to our team for delivery rates which may vary depending on location. For more information, or to enquire about our hire rates, contact Master Hire 1300 107 107.
For your safety, convenience and WHS obligations, user manuals and hazard assessments are available for a range of equipment.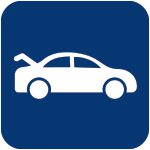 This item can be transported in the boot of a car.
Product Documents
Operator's Manuals