Electric Tile Saws – 9″
Master Hire's 9″ electric tile saws are the perfect tool for efficiently cutting or trimming granite, marble, porcelain and ceramic tiles (depending on blade type). Equipped with a 230mm diameter diamond blade, it has a maximum cutting depth of up to 50mm. Please note that different materials may require a specialised blade to be used. The sliding tray and adjustable mitre allows for tiles up to 730mm in length to be cut on angles up to 45 degrees. Our tile saws are powered by a 240V electric motor and the whole unit stands on a set of foldable legs. The machine is light weight, weighing only 47kg, and comes with a removable water containment tray. Overall dimensions: 160mm long, 575mm wide and 600mm high.
Product training and guidance
Our tile saws are easy to use and Master Hire's free customer hand over includes basic training to ensure you can operate the machine confidently and safely at all times.
Delivery and Pick Up
Master Hire offers convenient delivery and pick up options. Speak to our team for delivery rates which may vary depending on location. For more information, or to enquire about our hire rates, contact Master Hire 1300 107 107.
For your safety, convenience and WHS obligations, user manuals and hazard assessments are available for a range of equipment.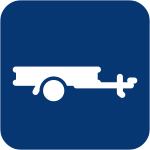 This item can be transported in a trailer or on the back of a ute.
Product Documents
Operator's Manuals
Hazard Assessment