Roof Tarps – 7m x 10m
Master Hire's heavy duty PVC roof tarps come in a number of sizes and are rolled in such a way that they can easily be set up on top of a roof. With eyelets and rope spaced every 1m around the tarpaulin, they are ideal for effectively covering storm damage on roofs and keeping water off exposed buildings. Whether it's for a pre-planned house re-roofing project or for emergency repairs on a broken roof due to hail or other storm damage, Master Hire's roof tarps are available for hire.
Product training and guidance
Our roof tarps are easy to set up and Master Hire's free customer hand over includes basic training to ensure you can operate the equipment confidently and safely at all times.
Delivery and Pick Up
Master Hire offers convenient delivery and pick up options. Speak to our team for delivery rates which may vary depending on location. For more information, or to enquire about our hire rates, contact Master Hire 1300 107 107.
For your safety, convenience and WHS obligations, user manuals and hazard assessments are available for a range of equipment.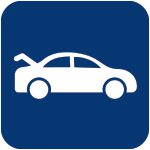 This item can be transported in the boot of a car.