Waste Trolleys – 350kg
Master Hire's waste trolleys or waste collection bins can be used on construction sites, warehouses or around the house or yard for moving large amounts of general waste, rubbish and other small items. With a 350kg capacity (SWL), these units come with two front wheels and one rear wheel for easy wheeling around the site. Also fitted with a pull handle which releases the bin forward. The unit weighs 72kg empty and the bin dimensions are 1350mm long, 850mm wide and 1040mm high.
Product training and guidance
Our waste bin trolleys are easy to use and Master Hire's free customer hand over includes basic training to ensure you can operate the machine confidently and safely at all times.
Delivery and Pick Up
Master Hire offers convenient delivery and pick up options. Speak to our team for delivery rates which may vary depending on location. For more information, or to enquire about our hire rates, contact Master Hire 1300 107 107.
For your safety, convenience and WHS obligations, user manuals and hazard assessments are available for a range of equipment.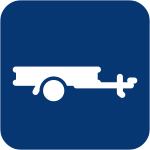 This item can be transported in a trailer or on the back of a ute.
Product Documents
Hazard Assessment