Carpet Cleaners
Master Hire's electric carpet cleaners are ideal for thoroughly cleaning carpets, lounges, rugs and is also suitable for drying water-logged carpets. These machines are simple to set-up and use and will remove stains, allergens & dirt from your carpet that normal vacuuming won't. Using the injection-extraction system this carpet cleaner shampoos carpet and then extracts excess liquid in a single pass of an area which allows it to clean deeply and have quicker drying times. The unit is designed to be dismantled into a two piece unit for easy handling. This carpet shampooer can be used at home by anyone wanting to do it yourself or by the professional cleaning industry for cleaning areas such as offices, homes, hospitality and catering facilities.
When hiring the carpet cleaner from Master Hire, you can also purchase a specialised non-foaming carpet shampoo designed for greasy carpets and other hard to clean areas. The CitraFresh shampoo comes in a 500ml bottle and is safe for all carpet fibres including fine silk rugs and woolen carpet. If you are unsure, test in an area where any possible damage will be less visible.
Each Master Hire carpet cleaner comes with a standard head, lance, and special upholstery attachment. The long handle lance with handle is 1.45m long and has a cleaning width of 300mm and is attached to the main unit via a 5m hose. This unit is powered by a 240V, 10amp plug, with a power rating of 1.5kW. Easy to maneuver on the 4 caster wheels, it is light weight and will easily fit into the back of small cars. The unit is split into two 30L plastic tanks, detergent tank on the bottom holds water and shampoo, and the recovery tank at the top holds the waste. According to the manufacturer the machine can clean up to 80m² in one tank (which is 10 bedrooms averaging 8m²).
Product training and guidance
Our carpet cleaners are easy to use and Master Hire's free customer hand over includes basic training to ensure you can operate the machine confidently and safely at all times.
Delivery and Pick Up
Master Hire offers convenient delivery and pick up options. Speak to our team for delivery rates which may vary depending on location. For more information, or to enquire about our hire rates, contact Master Hire 1300 107 107.
For your safety, convenience and WHS obligations, user manuals and hazard assessments are available for a range of equipment.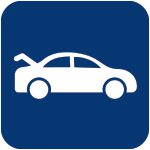 This item can be transported in the boot of a car.
Product Documents
Operator's Manual
Hazard Assessment