Pipe Inspection Cameras
Master Hire's pipe inspection cameras are the perfect tool for inspecting drains, cavities, conduits, pipes and wells. The camera is fitted onto the end of a flexible rod which can reach up to 60m with a digital counter and is designed to inspect cavities between 75mm – 225mm. The end of the push rod has a sonde which can be located by the camera and the sonde locator. The video recordings and pictures can be transferred via USB or SD card for play back or records. The survey picture can be zoomed in to see very small details in the survey. This zoom can increase by 1.5x, 2x, and 3x factors. A still image can also be captured and stored whilst recording. The user is easily able to organise videos and images in folders and find them using the thumbnail gallery. The main controller can run off the 6hr rechargeable internal battery or 240v power and the unit can be re-charged by using 240v mains power or 12v. The unit has adjustable LED lighting and 4 close up settings. The 60m coiler holds the push rod neatly and firmly in place inside the frame with a friction brake. The overall unit weighs 20kg and is 690mm long, 370mm wide and 890mm high. All components of the pipe camera are hard wearing and able to withstand the harshest work environments as well as providing finely tuned inspections with pinpoint accuracy.
See also: Sonde Locators and Pipe & Cable Locators
Product training and guidance
Our pipe inspection cameras are easy to use and Master Hire's free customer hand over includes basic training to ensure you can operate the machine confidently and safely at all times.
Delivery and Pick Up
Master Hire offers convenient delivery and pick up options. Speak to our team for delivery rates which may vary depending on location. For more information, or to enquire about our hire rates, contact Master Hire 1300 107 107.
For your safety, convenience and WHS obligations, user manuals and hazard assessments are available for a range of equipment.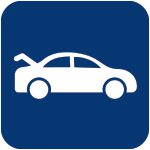 This item can be transported in the boot of a car.
Product Documents
Operator's Manual
Hazard Assessment