Concrete Floor Grinders – 250mm Petrol
Master Hire has a range of concrete grinders available for hire. Our 250mm petrol concrete floor grinders are ideal for grinding concrete and will make light work of levelling high spots, trip hazards, rough surfaces, removal of glue and other coatings and traffic line removal. These units are often referred to as a concrete mower and can also be used by Councils to remove lips on footpaths and other trip hazards. A front tapered nose gives excellent visability of the working area. The machine is fitted with a water control valve for wet grinding and to assist with reduction of dust whilst working. A number of models are available at Master Hire and the weights of the units vary from 90kg to 124kg. These machines will cover approx. 45-60 SQM/hr and the discs will spin between 900-980rpm depending on model. All models are fitted with a lifting eye for loading and unloading and a dust shroud to minise dust. The Floorex Galaxy 250 model can also be fitted with a bushammer head for very effective and damage free line marking removal from asphalt and bitumen and concrete.
Larger 480mm electric concrete grinders are also available or a 250mm single phase 240v electric version can also be hired from Master Hire. To assist in cleaning up the concrete dust Master Hire has suitable M-class dust extraction units available on request.
Diamond discs available:
10″ Soft Diamond Grinding Discs
10″ Medium Diamond Grinding Discs
10″ Paint Diamond Grinding Discs
10″ Hard Diamond Grinding Discs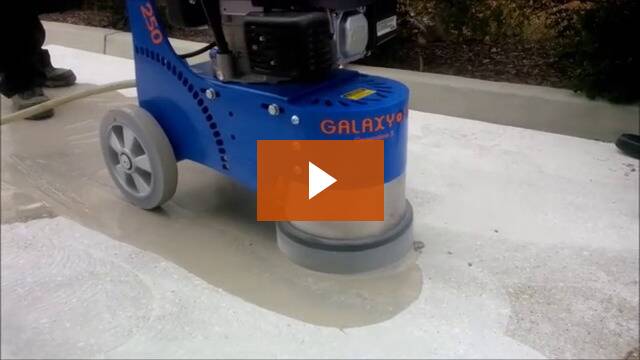 See also our: Concrete Scarifiers 
Product training and guidance
Our 250mm petrol concrete grinders are easy to use and set up, Master Hire's free customer hand over includes training to ensure you can operate the equipment confidently and safely at all times.
Delivery and Pick Up
Master Hire offers convenient delivery and pick up options. Speak to our team for delivery rates which may vary depending on location. For more information, or to enquire about our hire rates, contact Master Hire 1300 107 107.
For your safety, convenience and WHS obligations, user manuals and hazard assessments are available for a range of equipment.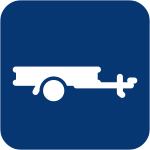 This item can be transported in a trailer or on the back of a ute.
Product Documents
Operator's Manual
Hazard Assessment