Brick Saws
Master Hire's electric brick saws come with a 14in diamond blade, sliding tray and angle for easier cutting, and mounted on a folding stand. It's the perfect tool for a paving job, bricklaying or building a retaining wall. For areas with limited access to water, we recommend equipping yourself with a portable water supply unit. The Mackinex 'Hose 2 Go' is a 14L (20kg full) portable water supply unit that can supply constant water to your saw for up to 30mins. If you are using this to cut pavers for your backyard patio, consider hiring a small vibrating plate with a rubber mat to protect your pavers when you compact them down and lock them into position.
Product Training and Guidance
Our brick saws are easy to use and Master Hire's free customer hand over includes basic training to ensure you can operate the machine confidently and safely at all times.
Delivery and Pick Up
Master Hire offers convenient delivery and pick up options. Speak to our team for delivery rates which may vary depending on location. For more information, or to enquire about our hire rates, contact Master Hire 1300 107 107.
For your safety, convenience and WHS obligations, user manuals and hazard assessments are available for a range of equipment.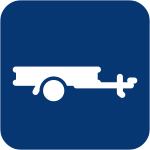 This item can be transported in a trailer or on the back of a ute.
Product Documents
Operator's Manuals