Concrete Floor Grinders – Planetary 480mm
Master Hire's large planetary concrete floor grinders are available for hire at all branches. The Satellite 480 Gen 3 grinder is fitted with 3 x 175mm diamond discs to make a total grinding area of 480mm wide, making it perfect for large commercial concrete grinding applications. A range of different grit diamond discs are available from Master Hire to suit this machine and are all easily installed onto the machine using a simple magnetic retainer system. For guidance as to which disc is suitable for your specific project, ask one of our friendly team members for assistance. This triple disc large concrete grinder is fitted with a easy foldable handle and central lifting point to make loading and unloading simple and the total machine weight is 150kg with an additional 22kg weights available for better grinding control. Operators can measure the percentage load on the machine via a small screen on the control panel for easy diagnosis of any potential power supply issues whilst in use. In normal applications, this 2.2kW 240V electric concrete grinder is capable of grinding up to 55-80m2 per hour whist spinning at 360rpm and is fitted with a floating dust shroud and 50mm suction port for dust extraction. Overall machine dimensions are: 1450mm long, 505mm wide and 1005mm high.

Master Hire also has available for hire the DustMaster DM2660 Dust Extractor unit which connects directly to the Satellite 480 grinder via a suction hose. This powerful M class dust extractor is perfect for keeping dust to a minimum whilst on site and makes a great addition to the concrete grinder. Other concrete grinders available are our smaller 250mm cub concrete grinder suitable for smaller areas or our 250mm petrol driven grinder for use where power is not available.
See also our: Concrete Scarifiers, Concrete Floor Grinders, Dust Exctractor
Product training and guidance
Our large 480mm planetary concrete grinders are easy to use and Master Hire's free customer hand over includes basic training to ensure you can operate the machine confidently and safely at all times.
Delivery and Pick Up
Master Hire offers convenient delivery and pick up options. Speak to our team for delivery rates which may vary depending on location. For more information, or to enquire about our hire rates, contact Master Hire 1300 107 107.
For your safety, convenience and WHS obligations, user manuals and hazard assessments are available for a range of equipment.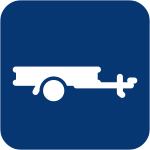 This item can be transported in a trailer or on the back of a ute.
Product Documents
Operator's Manual
Hazard Assessment