Plate Compactors – with Sprayer
Master Hire's plate compactors with water spray bar are ideal for compacting asphalt, dirt, crusher dust or other mixed soilts in confined spaces. This unit vibrates helping settle and compact the small granules of sand, rock or dirt. The unit is mounted with a large 11L water tank for use on asphalt and other soils. Weighing approximately 95kg, these plate compactors have a base plate width of 598mm x 578mm long and are powered by a Honda 4 stroke petrol engine.
Other features of these small vibrating plates include:
A central lifting point
11L water tank with spray bar
Used on a range of materials
Easy to start, stop and operate
These vibrating plates with water sprayer are small enough to be transported on the back of a ute or in a trailer. At least two people are required to lift this unit by hand.
We also have smaller light weight units available with an optional rubber mat or larger plate compactors for heavy construction.
Product training and guidance
Our plate compactors are easy to use and Master Hire's free customer hand over includes basic training to ensure you can operate the machine confidently and safely at all times.
Delivery and Pick Up
Master Hire offers convenient delivery and pick up options. Speak to our team for delivery rates which may vary depending on location. For more information, or to enquire about our hire rates, contact Master Hire 1300 107 107.
For your safety, convenience and WHS obligations, user manuals and hazard assessments are available for a range of equipment.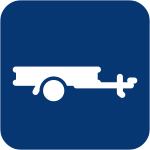 This item can be transported in a trailer or on the back of a ute.
Product Documents
Operator's Manuals
Hazard Assessment