Trailer Mounted Generators
Master Hire's Trailer Mounted Generators have a range of single and three phase power outlets with RCDs fitted, easy to use control panel and are enclosed in a lockable silenced canopy. All our large diesel generators come equipped with a fire extinguisher, battery isolation switch and emergency stop button fitted as standard. These mobile diesel generators are mounted on a flat bed tandem axle trailer making them perfect for a range of applications and events.
Applications include:
Road works
Events and outdoor markets
Site offices and construction projects
Short and long term projects
Emergency power
Other benefits of our diesel generator on trailer include cost savings on transport and a portable power source. There is a large fuel tank mounted underneath the unit and the unit can be connected to an external fuel cell for extended run times. Generator cables, extension leads and power distribution boards are available on request at all Master Hire stores.
Product training and guidance
Our trailer mounted generators are easy to use and Master Hire's free customer hand over includes basic training to ensure you can operate the machine confidently and safely at all times.
Delivery and Pick Up
Master Hire offers convenient delivery and pick up options. Speak to our team for delivery rates which may vary depending on location. For more information, or to enquire about our hire rates, contact Master Hire 1300 107 107.
For your safety, convenience and WHS obligations, user manuals and hazard assessments are available for a range of equipment.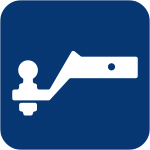 These trailer mounted generators can be towed behind any vehicle with a towing capacity greater than 2000kg.
Product Documents