Large Garden Tillers
Master Hire's large garden tillers are ideal to cultivate and turn over soil in garden beds. These units are not designed to 'hoe' virgin ground that larger more powerful rotary hoes do, but rather turn over soil in existing garden beds for aeration.
This unit is powered by a 6hp petrol engine and is simple to operate. The rotary tiller can be used on soft and sandy soils up to 150mm deep and has a tine width of 560mm. Master Hire's petrol powered garden tiller is fully hydraulic and weighs only 96kg which means it is easy to handle and transport.
Product training and guidance
Our rotary tillers are easy to use and Master Hire's free customer hand over includes basic training to ensure you can operate the machine confidently and safely at all times.
Delivery and Pick Up
Master Hire offers convenient delivery and pick up options. Speak to our team for delivery rates which may vary depending on location. For more information, or to enquire about our hire rates, contact Master Hire 1300 107 107.
For your safety, convenience and WHS obligations, user manuals and hazard assessments are available for a range of equipment.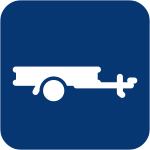 This item can be transported in a trailer or on the back of a ute.
Product Documents
Operator's Manual
Hazard Assessment