Hedge Trimmers – Pole
Master Hire's pole hedge trimmers are perfect for the hard to reach pruning jobs without the need for scaffolding or a ladder. Due to the adjustable shaft and the pivoting cutter bar, these hand held tools can be used for pruning bushes, deheading shrubs or maintaining hedges. Available with a shoulder strap to help prevent arm and shoulder strain, these powerful 2 stroke units have an easy start pull cord and will reach up to 3.0m. For thicker branches, we recommend using secateurs or a chainsaw before using a hedge trimmer.
Product training and guidance
Our pole hedge trimmers are easy to use and Master Hire's free customer hand over includes basic training to ensure you can operate the machine confidently and safely at all times.
Delivery and Pick Up
Master Hire offers convenient delivery and pick up options. Speak to our team for delivery rates which may vary depending on location. For more information, or to enquire about our hire rates, contact Master Hire 1300 107 107.
For your safety, convenience and WHS obligations, user manuals and hazard assessments are available for a range of equipment.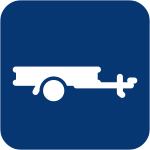 This item can be transported in a trailer or on the back of a ute.
Product Documents
Operator's Manual