Metal Detectors
Master Hire's hand held metal detectors can be used for finding small to medium metallic objects beneath soil or sand. The unit will detect metals when you sweep the search coil from side to side and is designed specifically for outdoor use only (Household appliances emit electromagnetic fields which can interfere with the detector). Our metal detectors have adjustable sensitivity knobs and discriminate toggle switches to allow for the detection of different metals. Applications include finding property markers, lost keys, machine parts, jewellery, precious metals and other metallic items.
Product training and guidance
Our metal detectors are easy to use and Master Hire's free customer hand over includes basic training to ensure you can operate the equipment confidently and safely at all times.
Delivery and Pick Up
Master Hire offers convenient delivery and pick up options. Speak to our team for delivery rates which may vary depending on location. For more information, or to enquire about our hire rates, contact Master Hire 1300 107 107.
For your safety, convenience and WHS obligations, user manuals and hazard assessments are available for a range of equipment.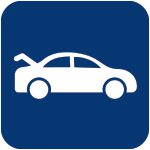 This item can be transported in the boot of a car.
Product Documents
Operator's Manuals