Vertical Log Splitters
Master Hire's trailer mounted vertical log splitters are hydraulically driven by a powerful petrol engine. For larger logs too heavy to lift by hand, there is a built in hydraulic lifter, capable of lifting up to 150kg to make your job easier. The vertical blade with wedge design, easily splits the toughest Australian hardwood logs into firewood and is able to handle different lengths of wood up to 450mm. The unit is equipped with a 9hp engine delivering 21 tons of splitting power and a 7 second cycle time. The machine's dimensions are 2400mm long, 1450mm wide and 1700mm high and is capable of being towed by most vehicles. These machines can be towed behind any vehicle with a towing capacity greater than 750kg.
Product training and guidance
Master Hire's free customer hand over includes a thorough walkthrough and training to ensure you can operate the unit confidently and safely at all times.
Delivery and Pick Up
Master Hire offers convenient delivery and pick up options. Speak to our team for delivery rates which may vary depending on location. For more information, or to enquire about our hire rates, contact Master Hire 1300 107 107.
For your safety, convenience and WHS obligations, user manuals and hazard assessments are available for a range of equipment.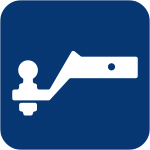 This item can be transported by a vehicle with a towbar.
Product Documents
Operator's Manual