Lawn Dethatchers
Master Hire's lawn dethatchers, also know as scarifiers or power rakes, are the perfect tool to thin out and rejuvenate old lawns. These machines remove layers of built up thatch (dead grass roots and runners) in your lawn by running a series of spinning vertical blades or steel fingers over your grass to slice the dead thatch layer. This process of shredding the dead layer of grass allows water and oxygen to reach the grass roots which lets the soil breathe and promotes healthy regrowth.
These units have a blade cutting width of 457mm. For best results, mow before and after using the dethatcher. These walk behind units have a fold down handle making it easy to transport on the back of a ute or in a trailer. Overall weight is 59kg and the dimensions are 1160mm long, 670mm wide and 990mm high.
Product training and guidance
Our lawn dethatchers are easy to use and Master Hire's free customer hand over includes basic training to ensure you can operate the machine confidently and safely at all times.
Delivery and Pick Up
Master Hire offers convenient delivery and pick up options. Speak to our team for delivery rates which may vary depending on location. For more information, or to enquire about our hire rates, contact Master Hire 1300 107 107.
For your safety, convenience and WHS obligations, user manuals and hazard assessments are available for a range of equipment.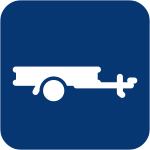 This item can be transported in a trailer or on the back of a ute.
Product Documents
Operator's Manual