Gyprock Lifters
Master Hire's gyprock lifters are able to lift dry wall sheets (up to 2.6m wide) to a height of 3.6m with cradle capacity of 65kg. The lifter's cradle tilts 65° laterally and 10° longitudinally for easy installation on sloped ceilings and walls. Its tripod base can be hyper-extended to allow the fully assembled panel lifter to roll through a doorway up to 860mm wide. Weighing 43kg, the unit easily folds down and separates into 3 different pieces making it easy to fit in the boot of a car or in the tray of a ute.
Product training and guidance
Our gyprock lifters are easy to use and Master Hire's free customer hand over includes basic training to ensure you can operate the machine confidently and safely at all times.
Delivery and Pick Up
Master Hire offers convenient delivery and pick up options. Speak to our team for delivery rates which may vary depending on location. For more information, or to enquire about our hire rates, contact Master Hire 1300 107 107.
For your safety, convenience and WHS obligations, user manuals and hazard assessments are available for a range of equipment.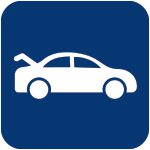 This item can be transported in the boot of a car.
Product Documents
Operator's Manual
Hazard Assessment