Acrow Props – 0.6m to 0.9m (Size 00)
Master Hire's acrow props can be used as temporary supports during new building construction, repairs or alteration works. Our acrow props are fully adjustable via a diameter screw thread. Various heights and sizes are available for hire at all Master Hire stores.
Size 00 from 0.60m to 0.90 m
Size 0 from 1.05m to 1.83 m
Size 1 from 1.60m to 2.8m
Size 2 from 1.90m to 3.40m
Size 3 from 2.1m to 3.97m
Size 4 from 3.1m to 4.9m
Product training and guidance
Our acrow props are easy to use and Master Hire's free customer hand over includes basic training to ensure you can operate the item confidently and safely at all times.
Delivery and Pick Up
Master Hire offers convenient delivery and pick up options. Speak to our team for delivery rates which may vary depending on location. For more information, or to enquire about our hire rates, contact Master Hire 1300 107 107.
For your safety, convenience and WHS obligations, user manuals and hazard assessments are available for a range of equipment.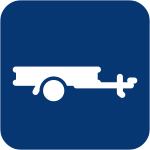 This item can be transported in a trailer or on the back of a ute.
Product Documents
Prop Capacities
Hazard Assessment