Portable Shower & Toilets – Trailer
Master Hire's portable shower and toilet combination trailer is the perfect solution for when you need a temporary shower and portable toilet on site. Simply connect the shower unit to running water and you are ready to go. The portable toilet contains a large water tank and waste tank. Drainage for the portable shower grey water is easily connected to any nearby waste pipe using the shower waste hose. This portable bathroom trailer can be connected to water via a standard 12mm (1/2 inch) garden hose fitting. The gas powered instant hot water unit is mounted at the centre of the trailer between the two cubicles, and for your safety is capped at a maximum temperature of 50°C. The portable shower also features a shower curtain, mirror and 3 x clothes hooks for your conenience. The single axle trailer that holds the 2 cubicles has 2 stabiliser legs at the rear, adjustable jockey wheel, fold down steps at the front and rear, wide non-slip checker plate platforms, handrails and a trailer brake. Both of the units have male, female or blank switchable signs, internal solar powered LED lights and a self-closing door. Each toilet can be used approximately 500 times before the waste needs to be removed.
ATM: 1500kg
Overall trailer dimensions: 1820mm (W) x 5050mm (L) x 2750mm (H)
Internal shower dimensions: 1050mm (W) x 1050mm (L) x 2030mm (H)
Product training and guidance
Our portable showers and toilets are easy to use and Master Hire's free customer hand over includes basic training to ensure you can operate the unit confidently and safely at all times.
Delivery and Pick Up
Master Hire offers convenient delivery and pick up options. Speak to our team for delivery rates which may vary depending on location. For more information, or to enquire about our hire rates, contact Master Hire 1300 107 107.
For your safety, convenience and WHS obligations, user manuals and hazard assessments are available for a range of equipment.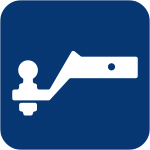 These units can be towed behind any vehicle with a towing capacity greater than 1500kg.
Product Documents
Operator's Manuals
Hazard Assessment