Portable Toilets – Trailer
Master Hire has an extensive fleet of trailer mounted portable toilets for hire to suit your construction site, function or event. Our trailer mounted portaloos are an ideal solution when temporary portable toilets are required on site. Each portable toilet contains a large water tank, self contained waste tank and have translucent ceilings for excellent light penetration. The single-axle trailer has a single toilet cubicles, along with two stabiliser legs at the rear, an adjustable jockey wheel, spare tyre, fold-down steps at the front and rear, wide non-slip checker plate platforms, handrails and a trailer brake. These units have male, female or blank switchable signs, internal solar powered LED light and a self-closing door. The toilet can be used approximately 500 times before the waste needs to be removed. The beauty of these trailer toilets is that they are full self-contained. No need for electrical power, fresh water or an outlet for sewerage. Master Hire gives you the option of collecting these units from any one of our stores, or we can deliver this toilet direct to you. They are versatile enough to go almost anywhere. With all our portable toilets for hire, there is the option for on-site pump outs (waste removal) and cleans to keep the unit sanitised and smelling fresh. We recommend one toilet per 40 – 60 people attending an event.
Applications:
Weddings
Parties
Functions
Festivals
Sporting Events
Concerts
Community Events
Construction Sites
Domestic Use
Trailer Mounted Toilet Exterior Size: 3650mm (L), 1710mm (W) and 2800mm (H).
In addition, our portable toilets also have the following features:
Men's or Ladies label on door
Foot or tap operated pump
Hand or foot operated toilet flush
Large waste holding tank capacity
Large water tank capacity
Adequate ventilation
Lockable self closing door
Optional soap dispenser
Wash basin
Optional solar powered sensor light
Sewer connect toilets are also available for hire which are designed for urban areas where a connection directly to the sewer system is available. Master Hire also has Wheelchair accessible toilets for hire. These specially designed toilets have easy ground level access and a self-closing oversize door.
Delivery and Pick Up
Master Hire offers convenient delivery and pick up options. Speak to our team for delivery rates which may vary depending on location. For more information, or to enquire about our hire rates, contact Master Hire 1300 107 107.
For your safety, convenience and WHS obligations, user manuals and hazard assessments are available for a range of equipment.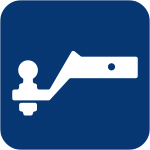 Our trailer mounted portable toilets can be towed behind any vehicle with a towing capacity of 750kg or greater.
Product Documents
Operator's Manuals
Hazard Assessment