Sewer Connect Toilets – Skid Mounted
Master Hire's portable sewer connect toilets are mounted on a skid base and are ideal for major construction sites where sewer connections are available. These units connect directly to an existing sewer line or septic system on site, similar to a permanent toilet structure which saves the need for weekly waste removals. All our portable toilets have translucent ceilings for excellent light penetration.
Sewer Connect Toilet Exterior Size: 2200mm (L), 1125mm (W) and 1180mm (H).
Weight: Empty 125kg / Max 300kg
Waste Pipe: 100mm Internal Diameter
In addition, our sewer connect portable toilets also have the following features:
Men's or Ladies label on door
Adequate ventilation
Lockable self closing door
Optional soap dispenser
Stainless steel wash basin
Double-skin walls
Aluminum checker plate flooring
Ceramic toilet bowl
Dual flush cistern
Fresh water inlet & sewer waste outlet
Certified lifting hooks
Galvanised steel skid
Delivery and Pick Up
Master Hire offers convenient delivery and pick up options. Speak to our team for delivery rates which may vary depending on location. For more information, or to enquire about our hire rates, contact Master Hire 1300 107 107.
For your safety, convenience and WHS obligations, user manuals and hazard assessments are available for a range of equipment.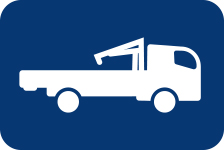 This item can be transported on the back of a crane truck.
Product Documents
Hazard Assessment