Aluminium Doorway Scaffold
Master Hire's doorway scaffold towers have a number of different applications and configurations including single and double width platforms. These towers are suitable for both internal and external use and are made from lightweight aluminium. The modular components make it easy to transport on the back of a ute, trailer or truck. Once erected, the scaffolding can be safely moved via the heavy duty lockable caster wheels. A scaffolding license is required when erecting scaffolding greater than 4.0m in height. Towers have an overall length of 2630mm (with a deck length of 2.5m), overall width of 730mm and are able to fit through most standard doorways (standard door width is 820 mm, but there are other popular sizes used: 720mm, 870mm and even 770mm).
Applications include:
Domestic and commercial construction
Outdoor and indoor use
Painting
Electrical maintenance
Product training and guidance
Our doorway scaffold towers are easy to use and Master Hire's free customer hand over includes training to ensure you can operate the equipment confidently and safely at all times.
Delivery and Pick Up
Master Hire offers convenient delivery and pick up options. Speak to our team for delivery rates which may vary depending on location. For more information, or to enquire about our hire rates, contact Master Hire 1300 107 107.
For your safety, convenience and WHS obligations, user manuals and hazard assessments are available for a range of equipment.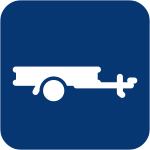 This item can be transported in a trailer or on the back of a ute.
Product Documents
Operator's Manual
Hazard Assessment
Component Weight Guide