Adjustable Trestles – 1.82m (6ft)
Master Hire's 6ft adjustable trestles (1.82m) have 4x adjustable feet with 10x 20mm increments. These aluminium trestles are lightweight and easy to set up, making them ideal for both home handyman and commercial applications. To create a secure platform for painting, plastering, or construction tasks, safely place two planks (rubber strips facing down) on a rung between them. For added strength and safety, we highly recommend using plank clamps to create a wider, stronger platform. Additionally, our handrail kits provide a guardrail on the side and each end, ensuring a safe working environment. When fully collapsed the trestle has an overall length of 1870mm and width of 800mm at its widest point.
Sizes available:
8ft Adjustable Trestle (2.43m)
10ft Adjustable Trestle (3.04m)
12ft Adjustable Trestle (3.65m)
14ft Adjustable Trestle (4.26m)
16ft Adjustable Trestle (4.87m)
Product training and guidance
Our adjustable trestles are easy to set up and Master Hire's free customer hand over includes basic training to ensure you can operate the machine confidently and safely at all times.
Delivery and Pick Up
Master Hire offers convenient delivery and pick up options. Speak to our team for delivery rates which may vary depending on location. For more information, or to enquire about our hire rates, contact Master Hire 1300 107 107.
For your safety, convenience and WHS obligations, user manuals and hazard assessments are available for a range of equipment.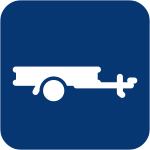 This item can be transported in a trailer or on the back of a ute.