Water Coolers
Master Hire's 240v water coolers are a great unit to be set up in staff kitchen areas, show rooms, offices and other working environments. These units need to be set up close to a power point and are designed to be used indoors and out of significant direct sunlight. Do not place the water cooler on flooring or near electrical or other items that may get damaged by water. Each water cooler has a blue tap for cold water and the grey tap for closer to room temperature water. 12L water bottles are not included with the hire of this water cooler, but can be arranged by Master Hire if required.
Product training and guidance
Our water coolers are easy to set up and Master Hire's free customer hand over includes basic training to ensure you can operate the equipment confidently and safely at all times.
Delivery and Pick Up
Master Hire offers convenient delivery and pick up options. Speak to our team for delivery rates which may vary depending on location. For more information, or to enquire about our hire rates, contact Master Hire 1300 107 107.
For your safety, convenience and WHS obligations, user manuals and hazard assessments are available for a range of equipment.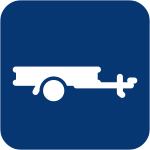 This item can be transported in a trailer or on the back of a ute.
Product Documents
Operator's Manuals