Patio Heaters – Large
Master Hire's large patio heaters feature a stainless steel burner that projects heat up to 17 square metres making it perfect for keeping your guests warm in your outdoor living area. This lightweight heater features a push button ignition system and settings knob which enables you to easily ignite and set the temperature at your comfort level. A safety valve ensures the unit will immediately shut off if tipped over. Perfect for outdoor business functions or private parties, the unit is run using a standard 9kg propane gas bottle which will last for approximately 9 hours. Items dimensions are 2130mm high and 813mm wide meaning it will fit in the back of most utes and trailers.
See also: Space Heaters, Small Patio Heaters
Product training and guidance
Our large patio heaters are easy to use and Master Hire's free customer hand over includes basic training to ensure you can operate the equipment confidently and safely at all times.
Delivery and Pick Up
Master Hire offers convenient delivery and pick up options. Speak to our team for delivery rates which may vary depending on location. For more information, or to enquire about our hire rates, contact Master Hire 1300 107 107.
For your safety, convenience and WHS obligations, user manuals and hazard assessments are available for a range of equipment.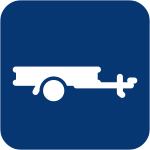 This item can be transported in a trailer or on the back of a ute.
Product Documents
Operator's Manuals
Hazard Assessment