Air Jackhammers – 60lb
Master Hire's 60lb large air jackhammers, also known as an air breaker or pneumatic hammer, are designed to be reliable for a range of applications including demolition and construction. This large pneumatic jackhammer is ideal for breaking up asphalt pavements and concrete slabs and requires a minimum 185cfm air compressor to operate. Weighing only 29kgs, this air breaker has a 170mm stroke and ergonomic handles to reduce exposure to hand arm vibration.
See also: Trailer Mounted Air Compressors
Product training and guidance
Our large air jackhammers are easy to use and Master Hire's free customer hand over includes basic training to ensure you can operate the machine confidently and safely at all times.
Delivery and Pick Up
Master Hire offers convenient delivery and pick up options. Speak to our team for delivery rates which may vary depending on location. For more information, or to enquire about our hire rates, contact Master Hire 1300 107 107.
For your safety, convenience and WHS obligations, user manuals and hazard assessments are available for a range of equipment.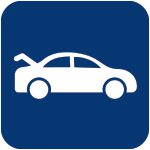 This item can be transported in the boot of a car.
Product Documents
Operator's Manuals
Hazard Assessment