Electric Jackhammers – Small
Master Hire's small electric jackhammers are ideal for footings and light concrete work. Weighing only 7.5kg, these lightweight units are easy to use and transport. Our small jackhammers are also available with concrete drill attachments to transform it into a large hammer drill for drilling holes up to 32mm into concrete. A drill bit can be mounted by simply inserting it into the tool holder. These jackhammers are available at all Master Hire branches.
See Also: Core Drills, Hammer Drills
Product training and guidance
Our small electric jackhammers are easy to use and Master Hire's free customer hand over includes basic training to ensure you can operate the equipment confidently and safely at all times.
Delivery and Pick Up
Master Hire offers convenient delivery and pick up options. Speak to our team for delivery rates which may vary depending on location. For more information, or to enquire about our hire rates, contact Master Hire 1300 107 107.
For your safety, convenience and WHS obligations, user manuals and hazard assessments are available for a range of equipment.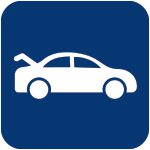 This item can be transported in the boot of a car.
Product Documents
Operator's Manual
Hazard Assessment