Angle Grinders – 7″
Master Hire's 7″ electric angle grinders can be used for cutting or grinding steel and other metal surfaces. Other applications include surface preparation and maintenance on a range of surfaces. The unit features a vibration absorbing handle for increased comfort. This grinder weighs only 6.5kg and  measures 51cm in length. This unit has a soft start feature for smooth start-ups and is ideal for welders, stone finishers, masons, fabricators and more. Grinding and cutting wheels are available to purchase from all Master Hire stores.
Product training and guidance
Our 7″ angle grinders are easy to use and Master Hire's free customer hand over includes training to ensure you can operate the machine confidently and safely at all times.
Delivery and Pick Up
Master Hire offers convenient delivery and pick up options. Speak to our team for delivery rates which may vary depending on location. For more information, or to enquire about our hire rates, contact Master Hire 1300 107 107.
For your safety, convenience and WHS obligations, user manuals and hazard assessments are available for a range of equipment.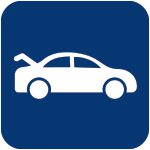 This item can be transported in the boot of a car.