Exhaust Fans – 600mm
Master Hire's exhaust fans are a high velocity fan designed to move a high volume of air. These 10amp 240V units can provide a high flow rate of 2500L/s to maintain a suitable working environment for your workplace. The fan easily fits through internal doorways and has a sound level of 78 dB when switched on and running. The unit weighs 61kg and its overall dimensions are: 860mm long, 718mm wide and 960mm high.
See also: Carpet dryers, Extraction Fans
Product Training and Guidance
Our exhaust fans are easy to use and Master Hire's free customer hand over includes basic training to ensure you can operate the machine confidently and safely at all times.
Delivery and Pick Up
Master Hire offers convenient delivery and pick up options. Speak to our team for delivery rates which may vary depending on location. For more information, or to enquire about our hire rates, contact Master Hire 1300 107 107.
For your safety, convenience and WHS obligations, user manuals and hazard assessments are available for a range of equipment.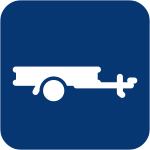 This item can be transported in a trailer or on the back of a ute.
Product Documents
Operator's Manuals