Carpet Kickers
Master Hire's carpet kickers are used for tensioning carpet during the laying of new carpet. Also known as a knee kicker or carpet stretcher, the telescopic steel tube is lightweight and has a visual pin depth dial which provides nine different depth settings for various carpets. The double buttons provide four length adjustments from 21″ to 25″.  Power rods extending through the pin plate provide support and improved force transfer to the carpet. The 110mm gripping head includes three nap grips and a pin plate with 16 hardened steel pins. The unit also features new power rods for improved force transfer. It can also be used for removing slackness from older carpet.
Product training and guidance
Our carpet kickers are easy to use and Master Hire's free customer hand over includes basic training to ensure you can operate the unit confidently and safely at all times.
Delivery and Pick Up
Master Hire offers convenient delivery and pick up options. Speak to our team for delivery rates which may vary depending on location. For more information, or to enquire about our hire rates, contact Master Hire 1300 107 107.
For your safety, convenience and WHS obligations, user manuals and hazard assessments are available for a range of equipment.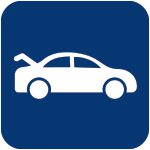 This item can be transported in the boot of a car.
Product Documents
OPERATORS MANUAL