Concrete Saws – 14inch
Master Hire's 350mm handheld concrete saws are ideal for shorter cuts. Also known as a demo saw, cut off saw or quick cut saw, this lightweight, but powerful machine is fitted with a 350mm (14in) diamond blade. It has a cutting depth of up to 5in (125mm) and is ideal for cutting through most concrete slabs. Our concrete saws are powered by a 2 stroke engine and weigh only 11.6kg. Dimensions of the 350mm concrete saw are 850mm long, 425mm high and 315mm wide. Also available with optional trolley to assist with precise cuts over long distances. This cart will turn the hand-operated Stihl cut-off saw into an easily manoeuvrable cutting machine. Conveniently, the cut height is adjusted by means of the upper handle. Fitted with a quick-mounting system and water tank.
Diamond blade types
14″ Concrete Saw Blade
14″ Bitumen Blade
Accessories
To make your job easier we have trolleys fitted with onboard water tank available on request. For areas with limited access to water, we recommend equipping yourself with a portable water supply unit. Makinex's 'Hose 2 Go' is a 14L (20kg full) portable water supply unit that can supply constant water to your concrete saw for up to 30mins. To assist in cleaning up the concrete dust Master Hire has suitable M-class dust extraction units available on request.
For precise depth adjustment and straighter cuts, we recommend our walk behind floor saw.
See also: Floor saw
Product Training and Guidance
Our concrete saws are easy to use and Master Hire's free customer hand over includes basic training to ensure you can operate the machine confidently and safely at all times.
Delivery and Pick Up
Master Hire offers convenient delivery and pick up options. Speak to our team for delivery rates which may vary depending on location. For more information, or to enquire about our hire rates, contact Master Hire 1300 107 107.
For your safety, convenience and WHS obligations, user manuals and hazard assessments are available for a range of equipment.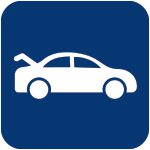 This item can be transported in the boot of a car.
Product Documents
Operator's Manual
Hazard Assessment