Rail Saws
Master Hire's rail saws are available with a 16″ or 400mm cutting disc for precision cutting of rail track. These units are designed for quick and efficient cutting times between 75 and 90 seconds, which is ideal for most applications. Master Hire's rail saws come standard with an attachment which mounts quickly to the rail and the double attachment mountings makes it possible to cut from any direction. This powerful 2 stroke petrol saw weighs only 17kg and is perfect for railways, tram tracks and metro systems. Rail cutting discs are available to purchase from any Master Hire store.
Product training and guidance
Our rail saws are easy to use and Master Hire's free customer hand over includes training to ensure you can operate the machine confidently and safely at all times.
Delivery and Pick Up
Master Hire offers convenient delivery and pick up options. Speak to our team for delivery rates which may vary depending on location. For more information, or to enquire about our hire rates, contact Master Hire 1300 107 107.
For your safety, convenience and WHS obligations, user manuals and hazard assessments are available for a range of equipment.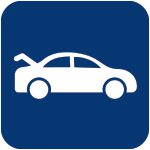 This item can be transported in the boot of a car.
Product Documents
Operator's Manuals