Wet/Dry Vacuum Cleaners – 90L
Master Hire's large industrial wet/dry vacuum cleaners can be used to clean up wet or dry materials and liquids around the home or commercial job site. In addition to the internal fabric filter bag there are optional paper prefilter bags available for use with finer dust particles like plaster. These vacuum cleaners have a capacity of 90L and also come with the following included items:
Narrow nozzle
Wet and dry vacuum heads
Small brush head
Lance
Hose
Castor wheels
For fine concrete dust particles we recommend hiring an M-Class Vacuum Cleaner.
Product training and guidance
Our large industrial wet/dry vacuum cleaners are easy to use and Master Hire's free customer hand over includes basic training to ensure you can operate the machine confidently and safely at all times.
Delivery and Pick Up
Master Hire offers convenient delivery and pick up options. Speak to our team for delivery rates which may vary depending on location. For more information, or to enquire about our hire rates, contact Master Hire 1300 107 107.
For your safety, convenience and WHS obligations, user manuals and hazard assessments are available for a range of equipment.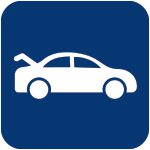 This item can be transported in the boot of a car.
Product Documents
Operator's Manual
Hazard Assessment