Cable Protectors
Master Hire's cable protectors are ideal for protecting electrical leads and generator power cables in high traffic areas. These durable rubber and plastic cable protectors are rated to support weight of 5t per axle (not recommended for truck or forklift traffic). Each have three built in channels which are approximately 50mm x 50mm x 910mm fitted with a hardened plastic lid to ensure cables are kept off the ground and constantly protected. Due to the durable plastic cover on the top of the cable protector, installing and removing cables and electrical leads is very simple. Master Hire's cable protectors have interlocking modules that will keep them linked end to end and your cables secure.
Product training and guidance
Our cable protectors are easy to use and Master Hire's free customer hand over includes basic training to ensure you can operate and install the item confidently and safely at all times.
Delivery and Pick Up
Master Hire offers convenient delivery and pick up options. Speak to our team for delivery rates which may vary depending on location. For more information, or to enquire about our hire rates, contact Master Hire 1300 107 107.
For your safety, convenience and WHS obligations, user manuals and hazard assessments are available for a range of equipment.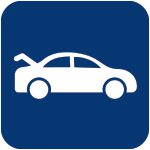 This item can be transported in the boot of a car.