125kg Ice Makers – Medium
Our medium size electric 125kg ice makers are an ideal addition to your business, party or job site. When you need a reliable source of ice, hire a ice machine (also known as a ice cuber) from Master Hire to save you buying expensive bags of ice cubes from the store. To operate the unit, simply connect a standard 12mm garden hose, plug it into a 240v power outlet and it will start making your very own quality ice cubes within the hour. You can hire this ice machine for a one off event, a few days or a few weeks. This self contained unit produces 125kg of ice per 24 hours and has 50kg of storage. The dimensions of this medium sized ice maker are 1045mm (W), 570mm (D) and 1030 (H) with legs.
See also: Large 210kg Ice Makers
Product training and guidance
Our ice machines are easy to use and Master Hire's free customer hand over includes basic training to ensure you can operate the machine confidently and safely at all times.
Delivery and Pick Up
Master Hire offers convenient delivery and pick up options. Speak to our team for delivery rates which may vary depending on location. For more information, or to enquire about our hire rates, contact Master Hire 1300 107 107.
For your safety, convenience and WHS obligations, user manuals and hazard assessments are available for a range of equipment.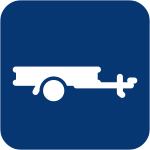 This item can be transported in a trailer or on the back of a ute.
Product Documents
Operator's Manuals