Water Tanks – 1000L
Master Hire's 1000L water tank's or intermediate bulk containers are built from plastic and is enclosed in a sturdy metal frame. These water tanks, also known as an ICB, can be used with a pressure pump and are suitable for supplying water to commercial, industrial or even domestic applications. The unit has a tap at the bottom for releasing the water and a large fill point with cap on the top. The 1000L capacity water tank is fitted with forklift pockets in the frame.
This tank is rated as non-potable, meaning it is not suitable for drinking water.
Delivery and Pick Up
Master Hire offers convenient delivery and pick up options. Speak to our team for delivery rates which may vary depending on location. For more information, or to enquire about our hire rates, contact Master Hire 1300 107 107.
For your safety, convenience and WHS obligations, user manuals and hazard assessments are available for a range of equipment.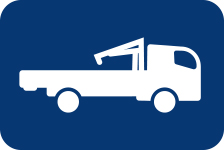 This item can be transported on the back of a crane truck.