Safety Bollards
Master Hire's bollards are orange poles made from rigid plastic with a strip of high visibility reflective tape at the top to be used in both daytime and nighttime applications. Also fitted with a 'T' piece on the top of the pole so barricade tape can be attached. To keep the bollard in place, a heavy rubber base is supplied with each unit. Ideal for roadworks, concerts and events and parking applications.
Delivery and Pick Up
Master Hire offers convenient delivery and pick up options. Speak to our team for delivery rates which may vary depending on location. For more information, or to enquire about our hire rates, contact Master Hire 1300 107 107.
For your safety, convenience and WHS obligations, user manuals and hazard assessments are available for a range of equipment.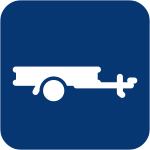 This item can be transported in a trailer or on the back of a ute.