Witches Hats
Master Hire's Witches Hats also known as Traffic Cones, can be used in a number of applications including building sites, roadworks and other hazard awareness situations. A range of sizes are available for hire and all Master Hire traffic cones have a weighted rubber base, a reflective collar and are easy to stack and transport.
Delivery and Pick Up
Master Hire offers convenient delivery and pick up options. Speak to our team for delivery rates which may vary depending on location. For more information, or to enquire about our hire rates, contact Master Hire 1300 107 107.
For your safety, convenience and WHS obligations, user manuals and hazard assessments are available for a range of equipment.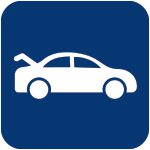 This item can be transported in the boot of a car.