On Tuesday 8th December 2020, Master Hire will settle the purchase of local Coffs Harbour hire company, Brycker Hire, having been approached by Brycker's owners to explore a sale opportunity. For more than 48 years, Brycker Hire has served the Coff's Harbour and New South Wales's Mid North Coast with hire equipment and associated services. The Boards of both companies are fully supportive of this transaction – with every customers' interest at the forefront of this decision.

Master Hire is a multi-award winning, family owned and operated equipment hire business which began in 1990. With a fundamental philosophy of "Built on Service", Master Hire continues to serve a wide range of customers including residential DIY, trade contractors and government departments with late model, quality equipment and great service. Master Hire is proud to employ locally within the Coffs Harbour area, and there are opportunities for existing Brycker Hire employees to join the Master Hire team. Master Hire has 7 branches and nearly 100 team members throughout New South Wales and Queensland. Master Hire has supported the area in and around Coffs Harbour since 2014, having previously operated a branch in Macksville and having a physical presence in Coffs Harbour for nearly 2 years.
Master Hire's new Coffs Harbour branch located just a few minutes south of Brycker Hire, features drive thru facilities, ample parking, multiple equipment loading bays, easy street access and a huge range of modern hire equipment.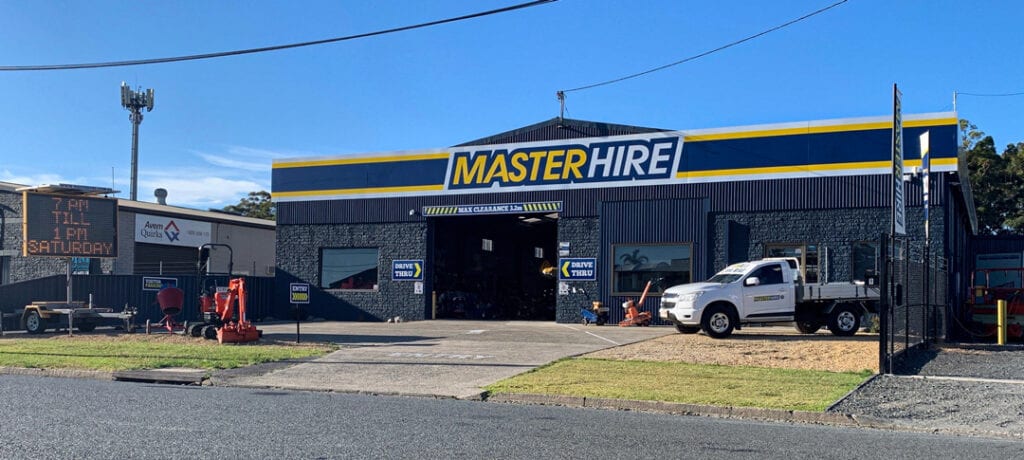 Master Hire offers delivery and pick up services throughout the region, a 24/7 back up support service and was recently awarded Australian Rental Company of the Year by the Hire and Rental Industry Association. Master Hire and Brycker Hire would like to thank the local Coffs Harbour community for your business and look forward to welcoming you to our new location so you can experience the award-winning service at Master Hire.
For more information, contact Master Hire on 02 6653 3133 or visit our website https://masterhire.com.au/equipment-hire-in-coffs-harbour/