Multi Process Welders
Master Hire's Multi Process inverter welders have the ability to do MMA, MIG, and DC TIG, at 180 amps with a 10 amp plug. It is the perfect all round welder. This machine is ideal for DIY or light commercial trades and comes equipped with arc leads, a 3m MIG torch and can be run using gas or gasless MIG wire. We also have electrodes, welding wire and shielding gas available on request.
Product Training and Guidance
Our multi-process welders are easy to use and Master Hire's free customer hand over includes basic training to ensure you can operate the machine confidently and safely at all times.
Delivery and Pick Up
Master Hire offers convenient delivery and pick up options. Speak to our team for delivery rates which may vary depending on location. For more information, or to enquire about our hire rates, contact Master Hire 1300 107 107.
For your safety, convenience and WHS obligations, user manuals and hazard assessments are available for a range of equipment.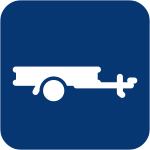 This item can be transported in a trailer or on the back of a ute.
Product Documents
Operator's Manuals
Hazard Assessments