Electric Drain Cleaners
Master Hire's electric drain cleaners, also know as sewer snakes, drain snakes or electric eels, are designed for clearing drains from tree roots, dirt build-up and other debris using rotating cutting blades. Attachments for the unit include starting tools which have drill or spade points and finishing tools which have a flat spring design with serrated edges 89mm in diameter. These finishing tools are typically used to clean and scrape away at the debris after the initial opening has been made and come with 10 lengths of coil extensions (2.39m) for a total reach of approximately 24m. If required, these machines can have multiple snap-lock coil extension lengths fitted up to a maximum of 60m. Lightweight and easy to use, the unit has a fold down handle and can fit in the back of a ute or trailer.
Additional information
See Also: Pipe Inspection Cameras and Sonde Locators
Delivery and Pick Up
Master Hire offers convenient delivery and pick up options. Speak to our team for delivery rates which may vary depending on location. For more information, or to enquire about our hire rates, contact Master Hire 1300 107 107.
For your safety, convenience and WHS obligations, user manuals and hazard assessments are available for a range of equipment.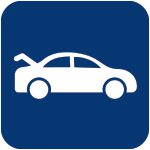 This item can be transported in the boot of a car.
Product Documents
Operator's Manual
Hazard Assessment